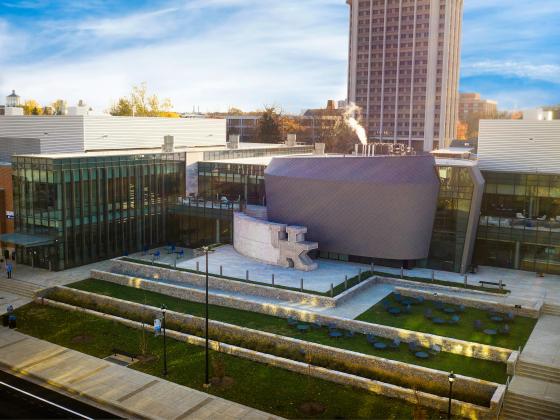 Accreditation
Through accreditation and compliance activities, the University reaffirms its ongoing commitment to academic excellence and innovation.
Institutional Accreditation
The University of Kentucky is accredited by the Southern Association of Colleges and Schools Commission on Colleges (SACSCOC) to award associate, baccalaureate, masters, educational specialist, and doctorate degrees. The University of Kentucky also may offer credentials such as certificates and diplomas at approved degree levels. Questions about the accreditation of the University of Kentucky may be directed in writing to the Southern Association of Colleges and Schools Commission on Colleges at 1866 Southern Lane, Decatur, GA 30033-4097, by calling (404) 679-4500, or by using information available on SACSCOC's website (www.sacscoc.org).
Please contact the Commission only if there is evidence that appears to support the University's significant non-compliance with SACSCOC requirements or standards. Other inquiries, such as admission requirements, financial aid, educational programs, etc., should be directed to the appropriate University department or unit.
All internal UK correspondence with SACSCOC should be submitted by the President of the University or designee, the SACSCOC liaison. Please direct these inquiries to Dr. Kathryn Cardarelli.  
UK was initially accredited in 1915 and is currently on a 10-year cycle. The University was last reaffirmed in 2013 and is scheduled for reaffirmation in 2023. Learn more about the University's current reaffirmation efforts here. 
The University is required to represent its accreditation status in all internal and external communication. Please use the following guide when describing the relationship with SACSCOC. 
Institutional, Financial Aid, and State Authorization Information
The University of Kentucky is recognized by the state of Kentucky by the authority of KRS 164.100. Upon approval of the Council on Postsecondary Education, the University is authorized to provide associate, baccalaureate, master degree, specialists degree above the master's-degree level, joint doctoral programs, doctoral and post-doctoral programs, and professional instruction including law, medicine, dentistry, education, architecture, engineering, and social professions (KRS 164.125).  
Information provided in accordance with the disclosure requirements for institutions participating in federal financial aid programs under Title IV may be found here. 
The University of Kentucky is an institutional member of the National Council for State Authorization Reciprocity Agreements (NC-SARA), a voluntary method to oversee distance education. Through NC-SARA membership, UK may offer distance education courses in programs in states who are also NC-SARA members without further approval from those states' higher education agency. Additional information about state authorization of out-of-state activities and distance education complaint and grievances procedures may be found here. 
Program and Specialized Accreditation
In addition to institutional accreditation by the Southern Association of Colleges and Schools Commission on Colleges (SACSCOC), many of the University of Kentucky's educational and administrative units, and degree programs undergo review by accrediting bodies or licensing and certification entities. The listing of Accredited Programs and units does not include Medical Center accreditations.
Substantive Change Policy
The University of Kentucky is required to report and document all substantive changes to SACSCOC. The University's Substantive Change Policy is described in Administrative Regulation 1:5. In adherence to SACSCOC's Substantive Change Policy and AR 1:5, the Office of Strategic Planning and Institutional Effectiveness (OSPIE) reviews all program changes, all new program proposals, and collects responses on a biannual substantive change survey. Anyone who is contemplating a substantive change should reach out to OSPIE to determine reporting requirements.  Common substantive changes include, but are not limited to, the following: 
Offering coursework at a more advanced level
Offering program/courses through collaborative agreements
Initiating a joint/dual degree 
Offering courses or programs at an off-campus site
Closing a delivery method completion option to student 
Suspending admission to an academic program
As part of the institution decennial reaffirmation process, the University is required to develop a Quality Enhancement Plan (QEP). You can learn more about the current process here.